Frigid Frog Packages

All Of Our Packages Include:
License agreement to use business name and logo
Hands-on training at YOUR location (price determined by travel cost) 
Professional CUSTOM flavor board for outside of unit                                            
Gallon jugs for syrup  
Laminated instruction sheets for inside of unit                                          
Flavor Concentrates (Quart Size)                                                                               
Cleaning brush for bottles & jugs
Complete operations manual  
High quality food grade syrup bottles (Labeled)
Executive tip premium pour spouts                
Business Location and Operating Specifics listed on The Frigid Frog website    
Glow-in-the-Dark Frigid Frog Wristbands                                                     
Measuring Beakers                                                       
Funnel Sets
Dust Covers/Night Caps for Pour Spouts
Continued Support & Marketing                                                                                
pH Test Strips
Sample Cups
Mixing Container with Spigot                                                                                   
Recipes for Sugar Free Syrup                                                                                    
Recipe for Cream  
1 Gallon Sodium Benzoate & 1 Gallon Citric Acid (preservatives for mixing)                                       
Frigid Frog Sour Squirt Kit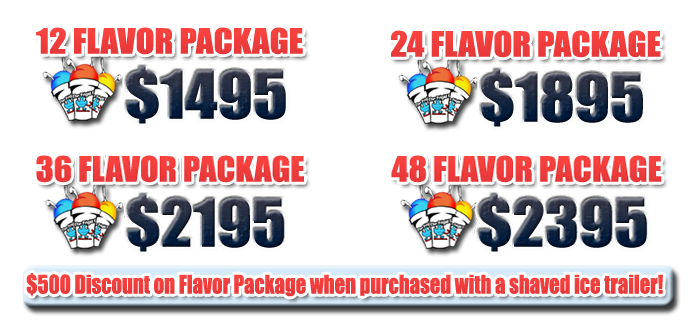 See Trailers Page for More Pricing

Facts To Know Before Starting Your Shaved Ice Business:
The Frigid Frog Shaved Ice Co. LLC is structured as a Dealer/Distributor network. Our concentrates are available exclusively to clients who utilize our name and logo at their operating location. We do not limit our clients to a particular selling platform. Whether you operate from a trailer, a stand or a storefront we can build a package that is right for your concept.
With YOUR goals in mind, our intentions are to create CUSTOM PACKAGES for individuals who desire to be successful in the Shaved Ice business. We are NOT a franchise so we will never charge our clients to use our program. Basically, you use our logo and business name & we provide you with all the tools needed to begin and maintain a PROFITABLE all cash business. 
Our name is related to our concentrates, so the only requirment to becoming a Frigid Frog is purchasing a package and to continue using our products for your shaved ice syrup. 
THE FRIGID FROG distributes only high quality concentrates that contain the highest levels of fruit oils and flavor available in the industry. Our products are only sold to licensed distributors, this ensures that your location will offer the highest quality products in the industry.
Whether you are mobile or stationary it can benefit your business to list your location at many of the FREE business directories featured on the internet. Our operations manual contains a comprehensive list of websites that allow you to create custom listings that advertise in your area.
The key to operating a successful shaved ice business is keeping overhead to a minimum. By mixing your own syrup, using high quality concentrates and preservatives, you will save over 60% in comparison to using a RTU (ready-to-use) syrup.
Utilizing key marketing tools, like our Glow-in-the-Dark wristbands, you can boost seasonal sales by 30%.