Welcome to the Frigid Frog!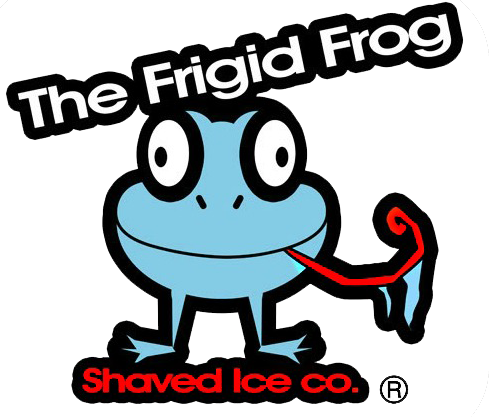 The Frigid Frog Shaved Ice Co. LLC exists to assist others in starting and CONTINUING a successful shaved ice business. Did you know it's a fact that most shaved ice businesses are family owned and operated? With our assistance you can step away from the daily grind of working for someone else and have your very own family owned and operated shaved ice business up and running in no time. We're here to help! You can count on us to provide you with outstanding products, great marketing strategies and unbeatable customer service, so that your shaved ice business venture is your own personal success from the start!
Be Your Own Boss with the Frigid Frog!
We Are NOT a Franchise Operation. Frigid Frog clients avoid the numerous pitfalls of joining a franchise operation by becoming their own boss and actually owning their shaved ice business. Our mission is to provide individuals in this industry a professional appearance and business plan by utilizing a nationally recognized brand and offering hands-on training from trained professionals who have been where you are now. Let's face it- there is an over-abundance of misguided information on how to start and successfully operate a shaved ice business out there. At the Frigid Frog, we take the time to confirm the facts and discredit the myths by offering honest advice and hands-on training to our clients, putting you on the right track and helping you to avoid costly mistakes. We have spent the time and paid our dues learning the ins and outs of the shaved ice business. We want to share that knowledge with you!
Hands-On Training Like No Other
In our market, "hands-on-training" can sound a bit cliche. To be clear, the Frigid Frog doesn't just hand you a vague manual and some random employee to ramble off a few basics and roll out. We HAND DELIVER everything you need to get started, and then some, as well as helping you make the hard decisions based on YOUR needs. Here is just a sample of what our "hands-on-training" will include: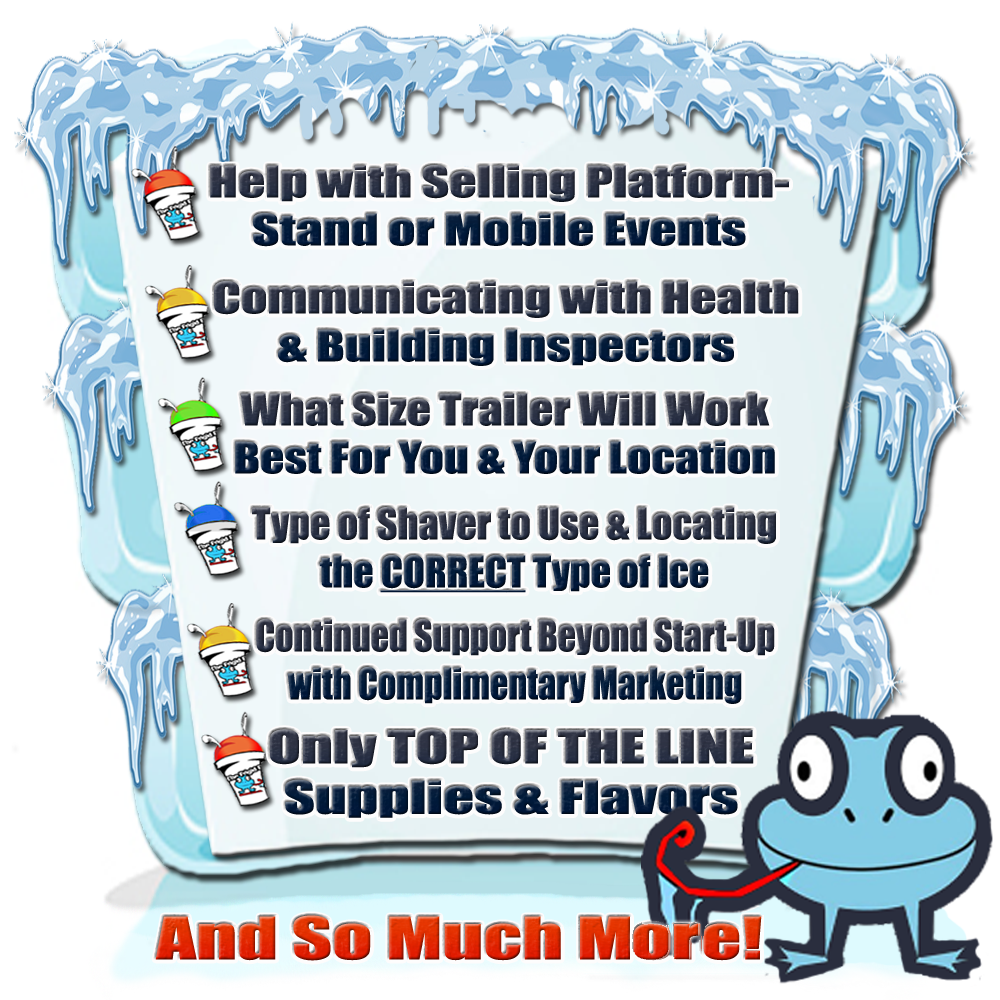 Your package will include CUSTOM LABELED pour bottles, pour spouts, mixing units, jugs etc. We customize our package to YOUR needs! Unlike the other guys, we build your package to order. You decide which flavors you would like to offer and what items fit your budget. We are a dealer/distributor network, so we only sell to Frigid Frog clients to ensure the success of your business.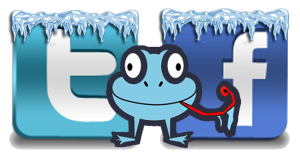 But as with any business, just having the know-how is simply not enough. Customer traffic and sales are crucial to your survival. We go a step further by assisting our clients with marketing at no additional charge. By listing their location and contact information on our website, in addition to directing potential customers to our clients, we give you an added boost that will help you in creating sales. But we don't stop there. The world as we know it thrives on social networking sites, and your shaved ice business should benefit from the buzz surrounding social media as well. By utilizing the word of mouth power from sites like Facebook and Twitter, we can promote events and feedback at each individual location, giving your shaved ice business an unfair advantage.
Join Our Growing Family!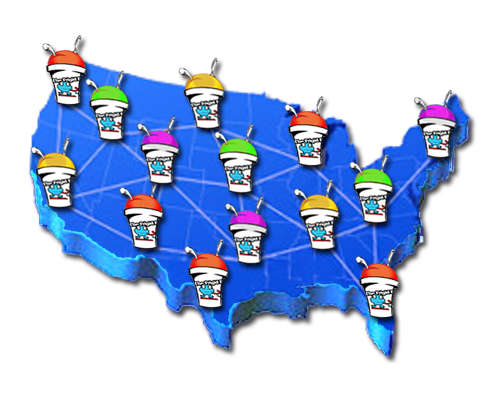 The Frigid Frog is a growing family of individually owned and operated businesses. The products and services that our company provides to those in the shaved ice business is like no other. Our clients are currently operating in 16 different states, with over 30 different locations. Are you ready to become our next Frigid Frog location? Our site is loaded with details and information and is here to help aid you in your decision. If you have any questions or concerns we are always willing to talk! Just visit our contact page and we will do our best to get with you as soon as possible. Feel free to surf our site and see why so many others have not only joined, but succeeded with The Frigid Frog!