How Does The Frigid Frog Work?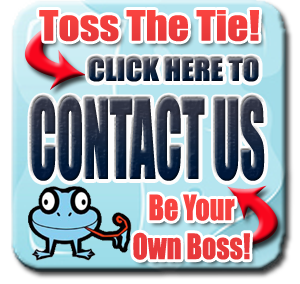 First and foremost, it is important to know that The Frigid Frog is NOT A FRANCHISE. By joining our family of Frigid Frog locations you are getting the benefits of a franchise operation without the hassles that accompany most franchises. You are truly your own boss with the Frigid Frog and are completely in charge of how you will run your shaved ice business. What type of person do you need to be to become a successful boss with the Frigid Frog?  People from all walks of life can benefit from running our shaved ice business. Teachers, Stay-at-home Moms, Retirees, Church Youth Groups, Fund-raising Events, College Students, High School Students, and Concession Sales are just a few examples of how the Frigid Frog is a great fit for just about anyone!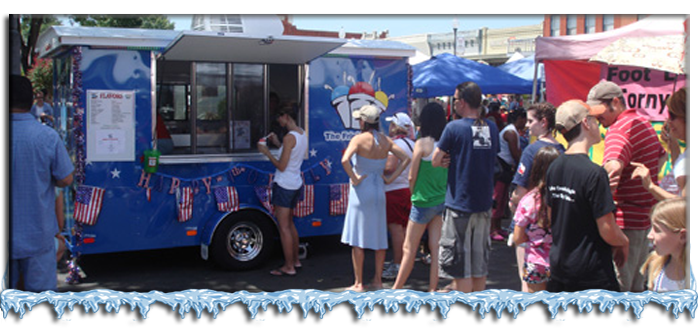 From the very beginning our goal is to assess your needs and help you determine which direction to head when starting your business. We provide our customers with the following information: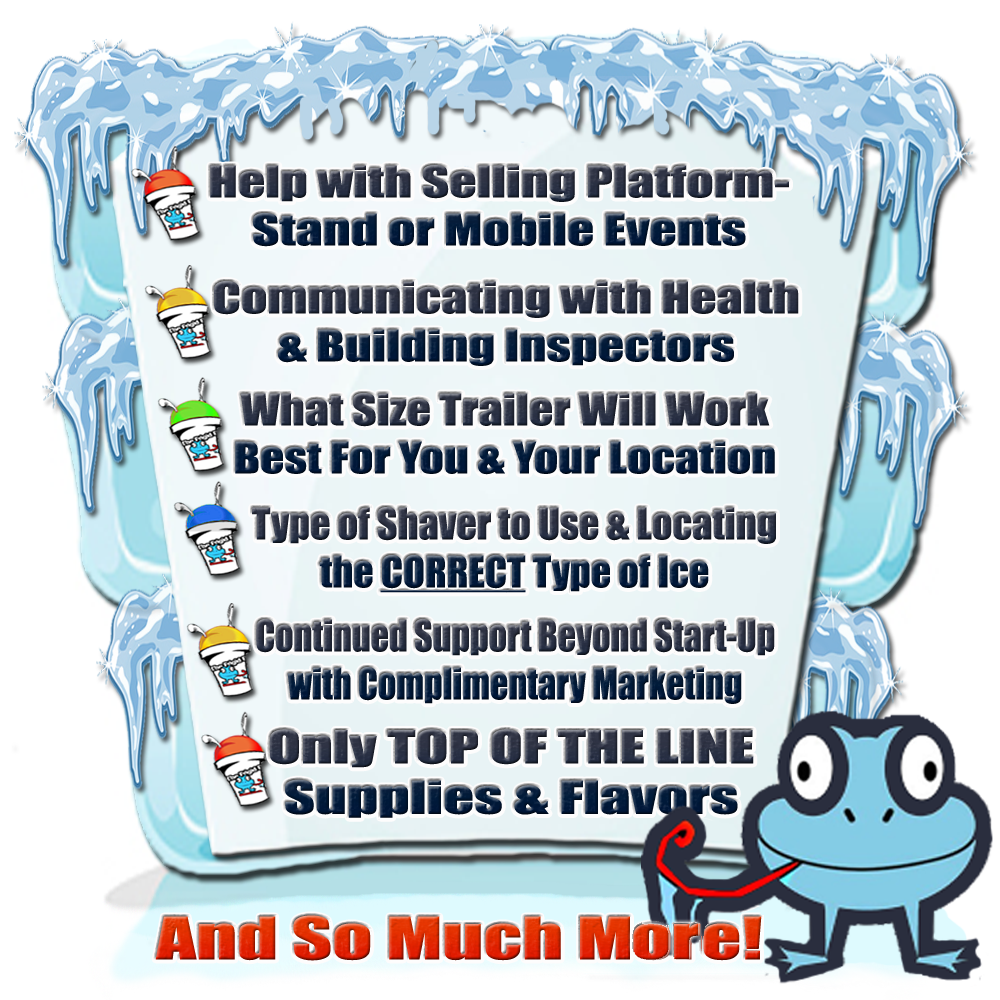 Hands On Training Like No Other!
We HAND DELIVER everything you need to get started, and then some. Your package will include CUSTOM LABELED pour bottles, pour spouts, mixing units, jugs etc. We customize our package to YOUR needs! Unlike the other guys, we build your package to order. You decide which flavors you would like to offer and what items fit your budget. We are a dealer/distributor network, so we only sell to Frigid Frog clients to ensure the success of your business!
**Our training calender fills up by mid-April so make sure to call early to ensure availability**
Top of the Line Flavors

After all, this is what your customer is paying for. Unlike the other guys, we do not try to sell you "powder" flavoring. Our flavors are made from real fruit oils and taste like the real thing! Concentrates are the way to go, and ours ARE different than the "old school" flavors that you find at most shaved ice establishments. All of our clients customers are saying the same thing, "This is the best shaved ice I've ever had, where do you guys get your syrup"? Well, the answer is- THE FRIGID FROG!
Frigid Frog Marketing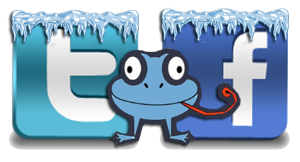 Your location and contact info will be indexed on our Frigid Frog Locations page on this website. Another valuable service we offer to our clients is posting updates on various social networking sites such as Facebook and Twitter. Whether you are attending an event, want to post pictures or offering discounts for YOUR individual location, these sites offer a great platform to do so increasing your traffic and customer sales. Your customer will also have access to the toll free number on the website. Whether they are looking for a Tadpole Cherry or a vendor for their event, we supply them with your location and/or contact information. We also encourage the use of our Glow-in-the-Dark wristbands. They can be used as a discount tool when your customers visit you, which will result in an increase in sales and repeat customers for you!
We Share the Know-How
If anyone knows the do's and dont's….it's us! Don't waste your money investing in products that don't work. POWDER FLAVOR is not good and will not keep your customers coming back. We will teach you how to keep your customers coming back for more! We have tested what works and what doesn't. Our company will provide hands-on training to assist you in the start-up process.
Equipment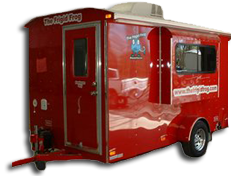 Whether you just want a cart for a small fair or a huge trailer to hit those major events, we work closely with you to help you build your own cash making machine! We have a nice selection of carts and trailers to choose from on our Trailers page. Choose what design fits you and your market, as well as color design and size, all based off of what YOU want as a business owner!
Signs & Menus
Each package comes complete with professionally designed signs and menus for the outside of your business! We want your experience in this industry to be exactly what you want it to be. We allow you, the business owner, to decide what flavors to put on your menus. Nothing is printed until the final decisions are made. Visit our Packages page for more information and pricing.